Automatic Transmission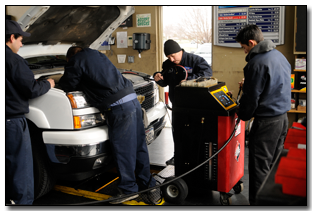 To extend the life and improve the performance of your transmission, it's important to have its automatic transmission fluid (ATF) replaced completely according to your manufacturer's recommended schedule. That's because heat and mileage cause the vital additives in ATF to become oxidized, depleted, and inert. Worn-out transmission fluid can result in rough shifting, accelerated wear, and even transmission failure.
Help keep your vehicle shifting smoothly by reducing wear on transmission gears and parts
Minimizes the risk of transmission failure and expensive repairs
Provide additional protection by using advanced detergents that work to remove deposits
Provide advanced conditioners to rejuvenate seals
It only takes about 10-15 minutes for us to:
Completely drain the transmission and torque converter
Refill with new Valvoline® automatic transmission fluid
Mileage Interval for transmission fluid replacement
Many vehicle manufacturers recommend fluid replacement at regular intervals to maintain vehicle performance. Please consult your owner's manual for specific manufacturer recommendations.