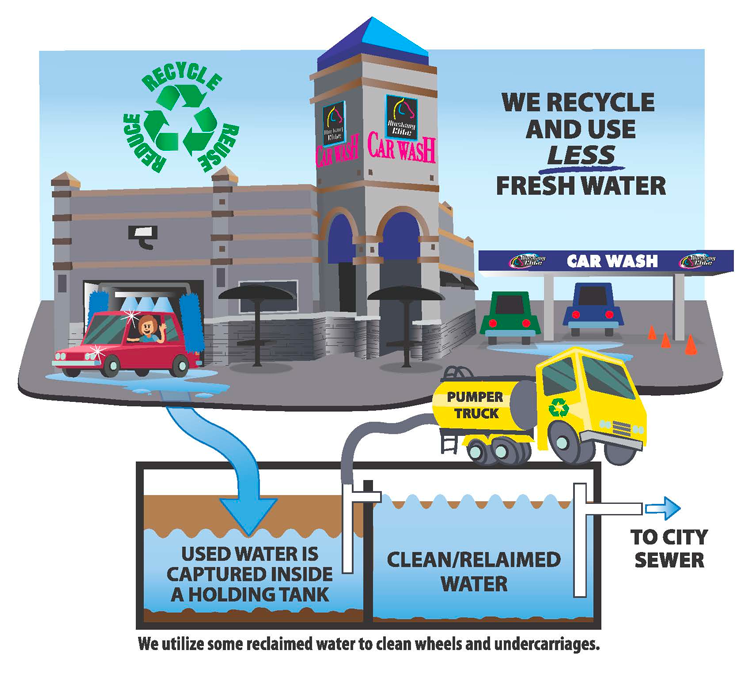 At Mustang Elite Car Wash, we take our environmental commitment extremely seriously. Our service is designed to reduce waste for homeowners by providing an eco-friendly, highly effective car wash (and amazing results!) We also aim to consistently improve our environmental practices by recycling water wherever possible and working with responsible suppliers.
How We Reduce Environmental Waste
Our car washing services use the minimum water required to get your car looking 100% fresh. Don't mistake our frugality for skimping on quality – we'll never leave you with anything other than the finest job possible.
However, there are several ways we meet our environmental commitment by cutting waste. Here's how we do it:
There comes the point when you're using enough water to clean a car perfectly. We know where that point is. We've tested our practices thoroughly to find where that sweet spot is. And we don't use a drop more.
Reducing our water usage means that across the year, thousands of gallons of clean water are saved compared to less efficient practices. Clean water is a precious resource, and we're determined not to take it for granted. We understand how to offer our customers the superb cleaning services they deserve without compromising our environmental credentials.
Reusing water is another great way to save waste. Before you raise an eyebrow – we know you don't want recycled water sprayed across your car's windshield. We also know that would just require us to clean it again, which would be inefficient.
When we clean your vehicle, we get every inch of your car clean. That includes the tires and undercarriage. This is important because dust, dirt, and grime build up in these areas, which can impact your car's performance. A dirty undercarriage will rust, while filthy tires won't retain their grip.
However, these areas are perfect for recycled water. We can save incredible volumes of water by using water that has only been used once (to clean the rest of your car's body) to clean the tires and undercarriage. It's efficient, it's smart, and it helps preserve our environment.
We source all our cleaning products from responsible suppliers. We speak to our suppliers before purchasing to find out which green initiatives they're following and how they seek to reduce water waste and create environmentally safe cleaning products.
Every buying decision matters when building a greener, healthier planet. That means our buying decisions as well as yours. We source our supplies from reputable companies, so you can enjoy 100% peace of mind when you come to us for your perfect car washing service.
Why It's Best to Avoid
Washing Your Car At Home
Washing your vehicle at home can be extremely inefficient. Sure, you could use one bucket and a sponge – but you know that's not going to produce great results. Here's the problem with home washing. Join us, don't waste & don't pollute!
Wasting Water

Spraying down your car and then meticulously handwashing it uses many gallons of water. Homeowners may not know how to target their cleaning efficiently – on the other hand, we're experts at this.

If you don't know how much water each part of the car requires, you could be more efficient. That's why environmentally conscious customers come to us.

Hard to Reclaim Water

While we can recycle and reclaim water for some operations, this can't be done so easily at home. We can collect run-off easily using specially designed tanks. At home, the run-off will simply flow down commercial drains and can't be reclaimed.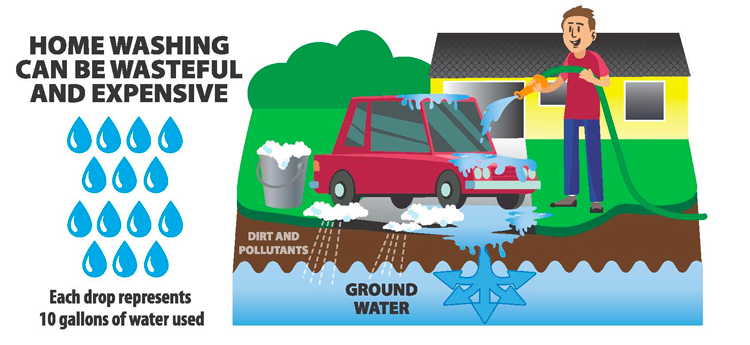 Spreading Pollutants

When you clean your vehicle at home, water goes everywhere. It runs across paving that may have been treated with chemicals or have oil spills. It runs into your plant beds and onto your lawn. It picks up dirt and grime on its journey, which finds its way down into the sewers and can contribute to clogging.

Our car wash is designed for one purpose – cleaning your vehicle! Our drainage system is designed to minimize the spread of pollutants and ensure all wastewater is dealt with appropriately.