Birthday Club Application
Celebrate your birthday with a free basic car wash!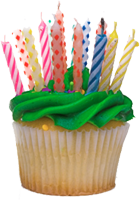 We invite you to join our Birthday Club. You don't have to tell us how old (or young) you are.
Bring in your car any time the week of your birthday and we'll wash it for free.
Please provide the following information:
*Required information
License plate is listed on your register receipt.
The information you provide is confidential. It will never be sold and will be used only to provide special discounts.